As I worked on my lace cardi back tonight, I got a little worried that the armscyes were too large. I ran upstairs before I bound off for the neckline and I grabbed three sweaters I wear that I felt were similar in size to what I am targeting with the lace cardi.
The first one is one I ordered from JJill last year [or two years ago?] when it went on clearance. I love the lace pattern and want to put it on socks! Anyway, I stretched the lace cardi (poor woman's blocking) out on top of it: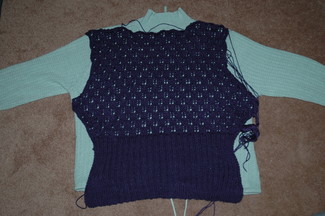 Ta-da! Armscye is about right. I lengthened the body by about an inch because I always wished the JJill cardi was about an inch longer. Also, the JJill sweater has no waist shaping, which this one obviously does.
Looks good to me — it is pulling in a little more than it will later, as this is pre-blocking.
Back done, now I just have two fronts and two sleeves!
Yarn count: the back weighs 161g, including all of the extra-long ends I left on it for seaming. That's just over 3 balls worth. We will wait and see how the sleeves go; I hope to start them this weekend!
Still crushing on this project, but now I am tempted by socks, socks, socks.