Exactly a week ago, I posted about my current crush. I'm glad I called it a crush and not a fling — this crush isn't going away!
I picked up the lace cardigan tonight once I had some free time. I wanted to finish up the armscye shaping to the point where you work even. I got there, and the shaping looks more or less right.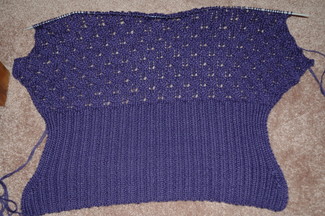 It's about 16.5″ now. I have another 4.5″ before I bind off the neck and work a few rows of shoulder shaping. This is about the right depth for my big shoulders and arms. The waist shaping looks very extreme in the picture. In real life it's not quite that extreme.
I'm still crossing my fingers that this pattern works out. I am taking bits and pieces of different patterns, putting my own swing on most of it, holding it up to another sweater of mine, and generally knitting by the seat of my pants (my favorite method, but one that can cause a lot of extra stress)!
I am still concerned about yarn amounts. I am still on ball #3. I will definitely have to break into ball #4 to finish up the back. This means the front panels should only take 3 balls total (since it's a cardigan, the fronts will be smaller than the back).
I technically have 15 balls, but one is knit up into two big swatches that I would rather not break into (unless I have to for seaming). After working the back and fronts and subtracting the swatch ball, that leaves 7 balls and change.
The sleeves… I was guessing they will probably take at least 4 balls apiece the way I want them (slightly flared, long sleeves — I hate 3/4 sleeves and this top would look goofy with short sleeves IMO — mostly I figure, I'm knitting it for me, I should make it exactly as I want it!). It is possible they will take 5 balls apiece. It's also possible they will take less than 4 balls apiece. I'm not sure right now, and sleeves always take more yarn than I expect!
I should be able to finish the back in the next couple of days, and then, onto the sleeves! After working most of the way on the sleeves, I should have an idea of whether I will need more yarn or not. WEBS still has it on sale for $4.10/50g, so hopefully I will know and can order some before they run out of this colorway (and perhaps it wouldn't be too much to hope for the same dye lot?).
I love it so far. I really hope this sweater works out because I don't like froggin'!