I am a fickle person. I jump from project to project to project all the time — most of us do! I periodically get obsessed with one particular project and I focus on it until it's complete or (more often) until I find something else to work on.
I've spent about a month swatching, working numbers, looking at existing patterns, attempting to figure out what to make with my stash of CEY Premiere (in a gorgeous aubergine that WEBS mistakenly calls navy). Before we left, I wound 14 balls of Premiere, drew a schematic for the back, and figured out a stitch pattern that looked good at the gauge and is geometric (that part took an entire 50g ball worth of swatching!).
I didn't start the project while I was out of town. I did start the back yesterday afternoon while catching up on what the TiVo had recorded while we were away. I spent many hours on it without noticing — I love how the yarn feels and works up. I find myself smoothing out the back in progress and beaming at it. Right now? I am completely in love with this project: the yarn, the design, the work. It's taking me forever to knit the lace pattern right now and I don't even care. It's that enjoyable.
So how does it look now?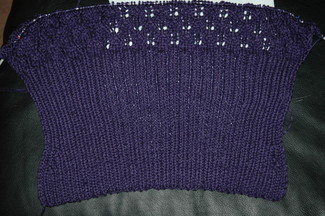 It's about 10.5″ tall now. The 2×2 rib at the bottom is about 7.5″ tall and expands about 10″ or something amazing. It (obviously) has waist shaping — I'm still increasing for the bust in this picture, but I am almost ready to start working even.
The lace pattern is a modified (shrunken) fern lace pattern that is 8 stitches + 1 in length and 12 rows high (6 rows of pattern, 6 purl rows).
There are a couple of additional pictures behind the cut.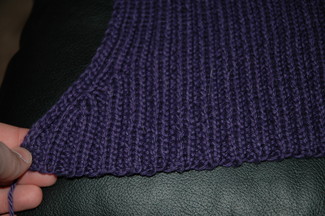 This is the waist shaping detail. This cardigan is going to be just barely past the waist, so the waist shaping started at about 1.5″ in (10 rows). I love the way I worked this even though it's not the cleanest or best job.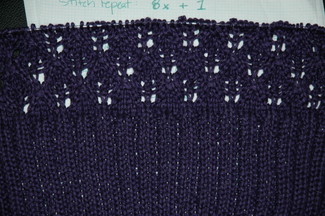 This is a detail shot of the lace and rib meeting.
Right now I still have some questions about the design. The back is planned out. The front is almost planned out — I still need to figure out the neckline (I'm considering a wide scoop, but that might not match well with this diamond-like lace pattern).
The sleeves are still a question. I would prefer long, slightly flared sleeves utilizing the same wide rib as the body of the sweater. However I'm not sure yet that I will have enough yarn. The sleeves will be worked last — I might try to budget to order more yarn once I really think I will need it.
For now, I am going to keep working on the back, then the fronts (which I will probably work together on one needle), then do some calculation about the sleeves. I'm only about a ball and a half in on the back [!] right now, so if the front takes me ~3.5 balls and the front takes me about the same, I should be okay. I'm just guessing right now though.
Now though, it's time to get back to my crush. I want to finish up the bust increases tonight. Progress!