Are you having a bad day? Did you find out at the last minute that you cannot go to something you have planned for a year? Did you accidentally break something at work and make certain people cranky? Are you stressed out from having to plan something at the last minute?
Sure, go to that local yarn store! Feel free to ransack their sale nook! Feel free to just buy buy buy with no concern for your bank account! After all, this is a small price for feeling better for a little while.
See what happens when I have a bad morning and treat it with retail therapy behind the cut.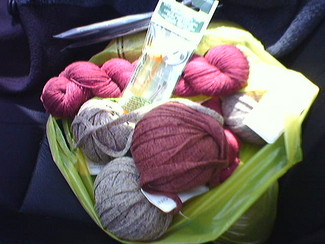 image brought to you by my cameraphone and my car, hence bad

What is it? 2 hanks of Lorna's Laces Shepherd Sock Almost Solids in Cranberry (I had this shade, but I gave it away to my mom a while back), 10 balls of Adrienne Vittidini Rebecca (55% cotton, 45% nylon ribbon yarn) in a flax/taupe/tan shade, 2 balls of the same in a maroonish shade, my orange chibi (FINALLY!!), a US5 24″ pointy inox needle for my CEY Premiere lace cardigan, and a US13[!] 24″ addi for the AV Rebecca.
I hope that I can get a cap sleeve top out of the AV Rebecca. I am thinking NBaT styled, only a totally different gauge. Same shape though. Probably with some texture.
In other news, they had the Hanne Falkenberg Mermaid kit in the shade I want, but it was $275. Yes, two hundred and seventy-five dollars with no discount. When I finally break down and decide I can do it, I will probably order it from Cucumberpatch for $120US. I did finally pick a colorway (the black-grey-blue one). Yum! I like garter stitch.