A while back, Sundara (of Purly Whites, and check out her yarn shop) posted a multicolor sock yarn that I simply had to have.
I got the yarn! It is vibrant and gorgeous. Of course it had to become lacy leaf socks — my favorite type of lace motif coupled with leafy green yarn!
I poured through Barbara G. Walker books of stitch patterns before I found one that I thought would work toe-up. I cast on, worked my toe and started the sock.
Later that day I was browsing Knitty when I came across a pattern I had liked and noted some time earlier — Falling Leaves. Oops! Same stitch pattern. Same stitch counts. Toe-up. Short row.
Unventing! Well, it's a great pattern anyway, and I love how the pattern looks in this yarn: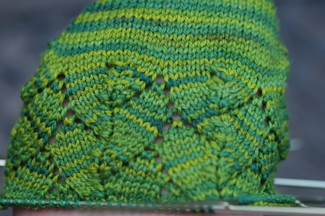 falling leaves in sundara sock yarn, leafy
I'm on the heel and I would be complete with the heel except that yesterday I got blindsided by a combination of family stuff and my need to find the perfect lace pattern for the CEY Premiere cardigan I am going to make.
The end result of yesterday? A big, messy swatch (still in progress) and now I am not going to MD S+W this weekend (I won't whine about it, but I am bummed that I'm not going to make it — especially with that whole yarn diet thing that was supposed to help me save money FOR it).
But Ginger is happy (behind the cut):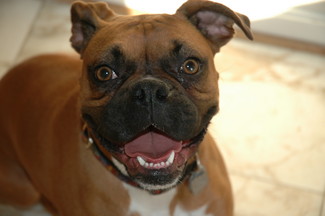 Boris and Claw are happy too, but you'll have to take my word for that.