My sockapalOOOza pal anoymously emailed me late last week to say that she might be mailing my socks out a little late because she is travelling and they had not sent out the addresses yet. So I was quite surprised when I saw a package at the door when I got home from hacking SQL all day!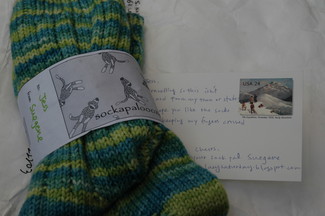 My sock pal was Suegene of Lazy Saturday! She dyed the yarn to be self-striping herself in great colors, teal and turquoise and lime green! Plus she accomodated my massively huge feet and ankles! (I feel guilty for everyone who makes me socks!)
What? You want to see more pictures? Here ya go: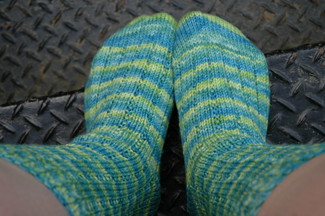 They fit perfectly and they are taller than socks I normally make myself, which is so awesome!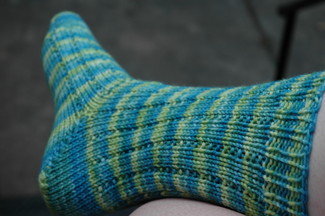 The pattern is
Thuja
(pattern by Bobby of
Briar Fiber
). Suegene worked these toe up with short row toe and heel — coincidentally, this is exactly what I started with on my sock pal's socks but it didn't work with the yarn I was using.
I love the socks — thank you, Suegene!