I just mailed out my sockapalOOOza socks to my sock pal. I took a very poor picture of the packaging with my cameraphone in my cube, so it is grainy and gritty and the colors are totally wrong. But here it is anyway: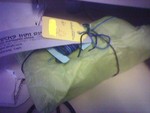 I wrapped the socks in tissue paper, tied them with some of the leftover yarn, and attached three tags — the Socks That Rock label, a bobbin with some yarn for darning (just in case!), and a tag with my sockpal's name, my name, and some information about the pattern. I also added a couple of little extras to the box and a DC photocard.
The socks are out of my hands now and into the USPS'! Now I am left to just hope that the socks get to my pal in the next couple of days, that my sock pal likes her socks, and that they fit!
Fingers crossed over here!
I also started a new sock, but it will get its own post and a non-cameraphone picture… later.