Oh, Opal, why do you do this to me…
Love: for some reason, my short-row heels in Opal yarns always look better than in any other yarn: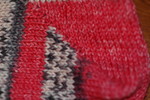 Love– I thought: I tried to match the stripes. I thought I was set when the legs matched:


Finally, Hate: then I finished the heel and the striping pattern ever so slightly changed: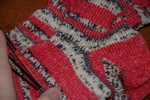 DRAT!
I am trying not to care that the stripes don't match on the foot. I don't want to rip back, attempt to match up the stripes, and reknit.
It just seems silly that I wasted time starting the sock at the same place, checked the leg to make sure it was matching and then after I worked the heel, discovered that the yarn pattern actually deviates at that point (and there was no knot there or anything)!
No fair, Opal! You should play nice with someone who has so much Opal in stash!