Back in November or October or so, I came up with a brilliant idea. I asked E (of poking my eyes out) if she wanted to participate. She agreed and we started musing in our over-engineering ways.
The idea was a knit patchwork afghan of squares for a mutual friend's wedding gift. I had not worked out what yarn, what size, edging, or any details. E and I talked about it and eventually decided on 8×8″ squares with a 1″ garter stitch border all the way around, and a total of 48 squares so that we could make a 6×8 square afghan, which is approximately twin bed sized. We wanted washable, durable, soft yarn and we decided on Debbie Bliss Cashmerino Aran (pilling be damned!).
At that point we were onto picking out colors. Three or four colors seemed like the right amount. I went out to Uniquities in Vienna, VA; E checked out Pacific Fabrics in Issaquah, WA and we came back with a decision. A dark navy (004), a bright red (610), ecru (101), and khaki (503, a discontinued color).
I thought about how much yarn we would need in terms of socks — Cashmerino Aran comes in 50g balls, so I figured that we could get probably 2 simple (non-cable) squares out of each ball and we bought yarn appropriately… though I also thought this might be overestimated, and that we might be able to get 3 squares out of a 50g ball, so we didn't buy any extra.
I think I started making squares in November sometime and E started in December. By the time February rolled around, she and I had purchased more yarn for insurance and need, I had made airline reservations to fly out to Seattle to assemble the afghan, and we were both freaking out over the combination of work commitments and the need to finish the afghan before the wedding at the end of March.
To add to the project, after finishing all 26 of her squares (24 + 2 extra), E got the bug to make a colorwork square. I said that we could do that but it needed to be the center square. Since our afghan at the time had even rows and columns, I did some quick math and suggested that we could make it 7 squares by 7 squares, which would mean we would only need to make one extra square – the colorwork square. It would make the afghan not quite the right size for a twin
bed, but we decided that it probably wasn't going to sit on a bed anyway and went with it.
I got to Seattle and in between yarn crawls, we figured out the square layout and then spent two nights seaming. One night to seam the squares together into rows and then to seam the rows together into something that more or less resembled a square.
During this process, we also picked up some fabric to back the afghan. I mused internally about batting but decided against it. This is when the project went into over-engineering mode. That night we used one of the spare squares and seamed the fabric to it to see how it would lie. E's DH said, "you guys need batting." We looked at him as if he had grown an extra head, since he had not said much about this whole afghan-grown-out-of-proportion process until this point.
The next day we went out to buy batting and another bit of fabric to be used to cover the batting that would show through the yarnover holes in our lace squares. We measured and measured and measured some more. We washed the fabric and cut it. E machine sewed pieces of fabric together to make it the appropriate width. We kept giggling about how we were making a quilt, more or less, and then attaching an afghan to the top of it.
We finally put the whole thing together — batting between two different types of fabric, and then E machine sewed the afghan to the top of it all. It made a very thick sturdy blanket, or quil-ghan.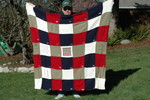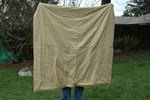 the afghan before backing; the back of the quilghan

E's DH made many jokes about us throwing the quilghan to him and knocking him over with its weight. Eventually both he and my DH acquiesced that the quilghan is a nice wedding gift (for a girl, ha!) and this past weekend we left it on the gift table at M and R's wedding reception (how anticlimactic!).
All told, we calculated approximately 230 hours of work total split between us more or less evenly. That includes picking the square patterns, knitting them, weaving in ends, blocking, seaming, and then sewing. Despite working from the same pattern books, E and I managed to not duplicate any stitch patterns, which amazes us still.
In the end, I think it turned out well despite the over-engineering. I had fun working on a project with E (and hope I didn't annoy her too much). E says she is never listening to one of my hare-brained ideas again (heh!) and I don't think either one of us will be making anything square-shaped for a while.