Despite the fact that April is a "Whip my WiPs into FOs" month, due to having received two boxes of yarn this week, I am thinking about my next garment project.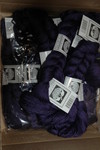 Classic Elite Yarns Premiere in Eggplant, #5295
WEBS calls this "navy" — they are oh so wrong!

The next garment I complete should be one in Premiere for me! My problem right now is that I am not sure what I want to make with it.
I love Wendy of Knit and Tonic's Somewhat Cowl pattern. I bought it. I would really like to make it. However I'm afraid the Premiere won't work quite right for it (I do get gauge with it), that the cotton/tencel blend will sag a little too much after wearing it.
I guess what I will do is: take measurements, wash swatch, dry swatch flat, take measurements, hang swatch for a day or so, take measurements. I'm not sure if that's really the best way to figure out if it is going to stretch and sag while wearing, but it should give me an idea.
If the somewhat cowl doesn't work out for this yarn, I think I am leaning towards a lace cardigan pattern. If I could wear wraps without looking dorky and getting annoyed, I'd make something like Arisaig. Maybe I should look for a wide ribbed, cropped, lace cardigan that doesn't wrap. Or, you know, design one myself.
In other fun news, on Wednesday the Peace Fleece for DH's sweater arrived. It is gorgeous, like all Peace Fleece. I danced around, pushed four hanks up against DH's chest and told him that now he had a stash of yarn. Ha! I am looking forward to planning and starting his sweater!