Technically it's Monday morning here already, but since my web server is located in California, I am going to post this as Sunday, durnit!
I decided this weekend that I was going to really focus on my SockapalOOOza socks, since they need to be fully complete in the next couple of weeks. I got a little further than I expected, but about as far as I hoped — which makes me very pleased!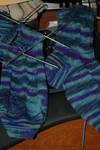 Wyvern Socks in STR (Lapis)
[bad pictures, this is what happens when it is midnight and I am hurrying!
Phew! I am through the heel and I've completed one of 4.5 pattern repeats on the leg already. I'd call this the home stretch!
If you check out the toe on the sock in progress, you'll see that it pooled strangely there until I "fixed" it. I'm a little concerned that my sockpal won't like having fraternal socks or that she will be put off by the pooling. I am not very picky about those kinds of things (in case my sock pal was curious/worried about such a thing!) but I totally understand how/why some people are… but I am going to leave it and hope for the best!
I'm really enjoying the pattern a lot. If you haven't given toe-up socks a try yet, you should.
Marnie MacLean's Wyvern pattern is great!
I also managed to rip out and redo the heel on the mate to my regia cotton tip and top sock. I've got one more set of stripes to get through and I'm done with it. That makes two pairs of socks quickly approaching completion.
Once I finish those two mates, I have five mates left:
koigu anklets
opal ladybug
ellen's 1/2 pint farm ribbed
twisty rib grey-rainbow
knit picks sock landscape tall socks
Ergh. I still have a lot of sock mates to knit before I can start any new socks. The temptation of Sundara's multicolor
yarn and Felicia's Sweet Shop yarns in my stash is really tempting me right now! Not to mention the new Opal Dreamcatcher I picked up…