I realize that Rogue is a pattern that 9/10 of knitblogland has completed. I'm okay with the fact that I am still working on it. I took a long break from it, now I am completely back in love with the pattern and can't wait to finish.
Last night this conversation took place (after the great Alex Ovechkin scored his 100th point this season!):
DH: How long have you been working on that? Are you going to finish soon?
me: Hey! I didn't work on it for three whole months!
me: E finished hers quickly and I don't think I knit slower than her.
DH: No, you guys are probably about the same speed… so, how many socks did you knit while she was working on her sweater?
[cue me laughing and laughing]
me: I'm almost to the armpit, then once I do the front back part, I just have the huge hood to make. So I might be done in … a month.
I did indeed get to the split last night. It felt like such an accomplishment! Once I slipped the live stitches for the front onto waste yarn, I pulled my Rogue tube top on to check fit and showed DH. Seems fine, quite a bit of ease, mostly due to my slightly loose gauge — fine with me, it's supposed to fit me like a sweatshirt.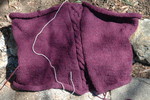 Rogue hanging out in my front yard
Later, DH and I were going to bed and he said (paraphrased), "Your sweater looks really cute. Even missing the shoulders and everything."
Ha!
I think he might just be buttering me up so I
start on his sweater soon. He really doesn't have to worry — I'm looking forward to it!